THWAITES ORLINE 2500
We ship worldwide!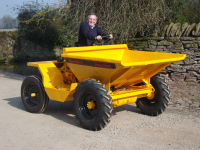 Picture 1 of 1
Fully rebuilt THWAITES 2500 1.25 Tonne forward tip 2 wheel drive dumper. Hydraulic tipping skip. (basic gravity tip model also available) Rear wheel steering. Fully rebuilt PETTER PH1 single cylinder diesel engine with 3 forward and 1 reverse gear with automotive type clutch. Oil immersed hydraulically operated foot brake with automatic adjsutment for wear. Cable operated handbrake. Painted in original manufacturers colours (or colour of your choice at extra cost). Fitted with brand new quality tyres.
2 x THWAITES ORLINE 2500 gravity tip available (hydraulic brakes)
Compatibility: General Dumper Spare
Replacement spares on this website may not be genuine Original Manufacturers parts. Manufacturers names, part numbers and descriptions are used for reference purposes only.