Input bearing DC2834B
We ship worldwide!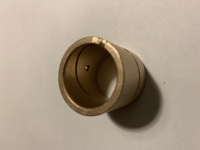 Picture 1 of 3
(next)->
This is a quality machined bush replacement for needle bearing no: T2834 input needle bearing which is no longer available. This will save you having to change both topshafts in an 85M gearbox when the original needle bearing fails.
It has three oil way holes to fit input shaft dimensions coupled to a circular groove for lubrication on the outside and a scroll on the inside for lubrication on the nose of the topshaft.
Compatibility: General Dumper Spare
Replacement spares on this website may not be genuine Original Manufacturers parts. Manufacturers names, part numbers and descriptions are used for reference purposes only.