Steering wheel keyed
We ship worldwide!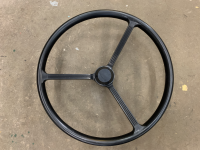 Picture 1 of 3
(next)->
Keyed type steering wheel 380mm diameter. tapered fitting lower entrance boss size 18mm, top entrance size 15.5mm , depth 30mm. Plastic cover cap illustrated. best check your tapered top to the column is long enough to take this.
Compatibility: THWAITES NIMLINE 2000

Replacement spares on this website may not be genuine Original Manufacturers parts. Manufacturers names, part numbers and descriptions are used for reference purposes only.