Starting handle dog PH engine
We ship worldwide!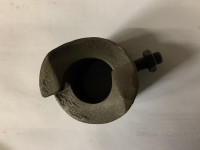 Picture 1 of 2
(next)->
Good used right hand rotation dog to fit PH crankshaft - much safer than handle that fits over the crankshaft!! Handle disengages as soon as engine starts!
Compatibility: General Dumper Spare
Replacement spares on this website may not be genuine Original Manufacturers parts. Manufacturers names, part numbers and descriptions are used for reference purposes only.