Loom - wiring
We ship worldwide!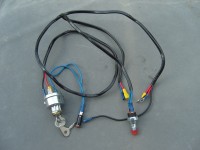 Picture 1 of 1
Wiring loom complete with ignition switch, warning light, oil pressure switch and all LUCAR fiitings. This is suitable for PETTER PH2 engined THWAITES dumpers fitted with an alternator (not dynamo) Oil switch is fitted in circuit to prevent drain on battery if ignition switch is not turned off completely at the end of the working day, engine having no solenoid stop.
Compatibility: General Dumper Spare
Replacement spares on this website may not be genuine Original Manufacturers parts. Manufacturers names, part numbers and descriptions are used for reference purposes only.