Steering box parts
We ship worldwide!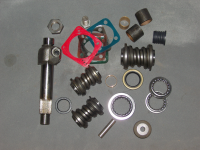 Picture 1 of 1
Parts for MARLES steering box,bearings, bushes, side shaft seals, rubber bushes with bronze insert for the top of the column, cross shafts, left and right hand cams etc. Please check with us as there are several different combinations / sizes. NOTE: this is only suitable for the MARLES box - you will find the letters and model number stamped into the main casting P3688, P3689, P3690, P3691 etc. These boxes were fitted to Aston - Martin, Alvis and Triumph amongst others and also TRUSTY and TURNER tractors plus a myriad of other vehicles inc. MORRISON milk floats! We can build replacement boxes to suit some old applications including a replacement for the MARLES 362 box. Please ask.
Compatibility: General Dumper Spare
Replacement spares on this website may not be genuine Original Manufacturers parts. Manufacturers names, part numbers and descriptions are used for reference purposes only.