Bolt + nut -axle/turntable Our ref: DC9926/28
We ship worldwide!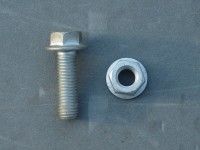 Picture 1 of 1
Special nut and bolt for axles to chassis application and turntable to chassis on swivel skip models. These bolts and nuts have a serrated washer built in to prevent loosening. American design called "Maclean - Fogg" for those of you who like technical details! Better than a normal nut, bolt and spring washer. Standard Original Equipment specification for THWAITES dumpers.
Compatibility: THWAITES ORLINE 2500
THWAITES 4000 Standard
THWAITES 4000 Swivel
THWAITES 7000

Replacement spares on this website may not be genuine Original Manufacturers parts. Manufacturers names, part numbers and descriptions are used for reference purposes only.