Decal kit
We ship worldwide!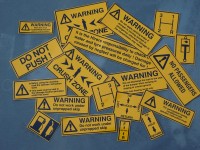 Picture 1 of 1
Decal kit for all makes of dumper. 20 decals as follows:
1 x Hydraulic tank decal.
1 x Diesel tank fuel decal.
1 x Forward / reverse decal for switch for dashboard on torque convertor models.
1 x TIP - HOLD - RETURN decal for tipping lever on straight skip models.
2 x WARNING - CRUSH ZONE decal for centre articulated dumpers.
1 x WARNING - Mineral brake fluid only (for all British dumpers)
1 x WARNING Do not apply parking brake if dumper is moving etc decal
1 x WARNING - Do not discharge load to sides of dumper when working on uneven / sloping ground decal
1 x NO PASSENGERS ALLOWED decal
1 x DO NOT PUSH decal
1 x Gear shift decal 1, 2 ,3 and Reverse decal (for manual boxes)
1 x Torque convertor shift pattern decal
1 x Swivel skip rotational / directional decal
1 x WARNING - towing conditions decal
1 x Before using this machine, read the operators manual etc decal
2 x WARNING - Do not work under unpropped skip decals
Compatibility: General Dumper Spare
Replacement spares on this website may not be genuine Original Manufacturers parts. Manufacturers names, part numbers and descriptions are used for reference purposes only.