THWAITES 6000 High Tip Skip
We ship worldwide!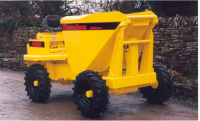 Picture 1 of 1
THWAITES 6000 High Tip skip 2.5 Tonne 4 x 4 dumper. Brand new LiSTER TR2 cylinder electric start 2 cylinder diesel engine. Automotive type clutch with 3 forward plus 1 reverse gear. Oil immersed hydraulic brakes operative on all four wheels. Cable operated handbrake. Fitted with new electrics and new quality tyres. Warranty 12 months parts subject to our normal conditions. As supplied to regular customers / dealerships overseas.
1 available now.
Compatibility: General Dumper Spare
Replacement spares on this website may not be genuine Original Manufacturers parts. Manufacturers names, part numbers and descriptions are used for reference purposes only.