Regulator Our ref: DC57041701
We ship worldwide!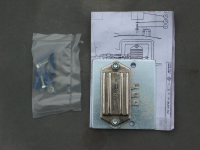 Picture 1 of 1
12 volt regulator for early LISTER TR and TS engines. This regulator is now no longer available from LISTER who now supply a kit comprising of a different regulator and a new stator. To fit the new LISTER kit, the flywheel needs to be removed to change the stator.
Our replacement kit comes complete with new regulator, all screws, electrical fittings and instructions. The flywheel does not have to be removed to fit it.
Compatibility: General Dumper Spare
Replacement spares on this website may not be genuine Original Manufacturers parts. Manufacturers names, part numbers and descriptions are used for reference purposes only.