Rubber mountings Our ref:DC9310
We ship worldwide!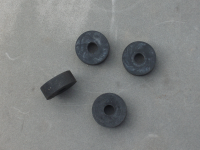 Picture 1 of 1
Rubber mountings for DC12575 air cleaner assembly. See also DC7857 element, DC7859 straps, DC11558 stack cap, Dc7540 and DC7872 jubilee clips.
Compatibility:
Replacement spares on this website may not be genuine Original Manufacturers parts. Manufacturers names, part numbers and descriptions are used for reference purposes only.